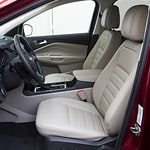 Sometimes, you need to break out of your rut. The Ford Escape is a crossover SUV designed to help take you from mundane to marvelous in minutes. The following features are a few of our Bowman Auto Center service team's favorite amenities for finding rejuvenation.
Whether you're hitting the beach or Clarkston streets, shifting your focus from work-related responsibilities can be challenging. Playing an entertaining podcast or blues-busting song through the Escape's B & O Bang & Olufsen sound system can help you refocus. The ten premium speakers included with this system ensure that you're bathed in nourishing sound.
Sometimes, what you need is a change of pace. If you're in an Escape, finding a moment of zen-like calm is as easy as pulling over, opening the Panoramic Vista roof, and relishing the sky. The Escape can transport you from weary to wonderful.