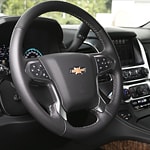 At Bowman Auto Center, we get a lot of customers who want the most high-performing vehicle on the market. However, higher performance isn't always better. For a lot of vehicles, high performance means sacrificing fuel efficiency and spending hundreds of dollars on gas every month.
That's not the case with the Chevrolet Tahoe. This vehicle comes with your choice of three powerful engines, each offering at least 20 miles per gallon. If you go with the DURAMAX 3L, you'll get 28 miles per gallon, 277 horsepower and fuel efficiency features that make the Chevrolet Tahoe one of the most efficient vehicles on the market.
Your new Chevrolet Tahoe can take you all over Clarkston without forcing you to spend half your paycheck on gas every month. It's powerful enough to take you where you need to go but efficient enough to reduce gas usage and help the environment at the same time.